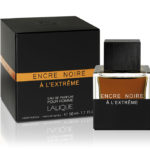 Encre Noire A L'Extreme
₦48,000.00
Description
Encre Noire A L'Extreme Parfume
By LALIQUE FOR MEN
As the new successor to fragrance Encre Noire by Lalique presented in 2006, the market welcomes ENCRE NOIRE A L'Extreme, an intense masculine edition available since October 2015. With its design, the new edition reminds us of the famous "Encrier" designed by Rene Lalique in 1913, which served for design of the first fragrance Encre Noir and its successors Encre Noire Pour Elle in 2009 and Encre Noire Sport in 2013. The latest edition after moving towards a lighter interpretation and 'sporty' version of the original, the accent is now placed on intensive woodsy blend of cypress and vetiver.
Composition of the new fragrance ENCRE NOIRE A L'EXTREME is announced as very masculine, intensive, powerful. "Bergamot, cypress, incense, vetiver (Java & Haiti), sandalwood, patchouli ENCRE NOIRE À L'EXTRÊME redefines masculine sensuality with a powerful blend of cypress and vetiver. A new woody intensity, for a unique, unforgettable trail…"
The fragrance is available as 50 and 100ml Eau de Parfum.