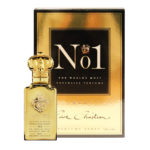 No.1
₦597,500.00
Description
This British Perfume House was first established 135 years ago by Queen Victoria when she gave her crown to the perfumery in 1872 as a symbol of utmost quality and excellence. No 1 created with no cost spared represents the 'non plus ultra' of British luxury. The vision led to the creation of an extraordinary collection of perfumes, including No.1, which is recognized by the Guinness Book of Records as the world's most expensive perfume. It uses the rarest and most precious ingredients, both for the fragrance as well as the bottle. Decorated with a white brilliant-cut diamond, its bottle makes No 1 the ultimate luxury perfume.
Available in luxury pure parfum bottle of 30ml and 50 ml eau de parfum.
In collaboration with Baccarat, the most prestigious name in the world of crystal, the famous English designer offers a No.1 limited edition: a matchless crystal bottle, enriched with an 18-carat gold inset containing a 5-carat brilliant cut diamond. A magnificent celebration of the fragrance and of the bottle: so magnificent that it received the UK FIFI award for special packaging in 2006.
No. 1 was launched in 2001.